Issues raised in No Hunger in Paradise are not just apparent in the UK, but worldwide problems seen in more industries than football.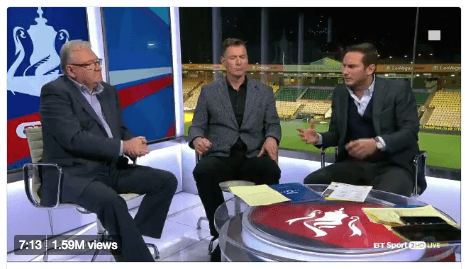 It's a few days since the No Hunger in Paradise aired on BT Sport and was made available to watch online for free. Since then, there seems to have been countless discussions on social media platforms and within coach community WhatsApp groups about the rights and wrongs of youth football in England. Everyone has an opinion on children with social media accounts, young players earning too much money early in their career and whether or not they start academy football prematurely.
I found it to be an enjoyable watch and I've recommended it to most people I know in football, even just so they can have an informed opinion when it no doubt comes up in conversation. Although I enjoyed it, I did feel I had to concentrate a fair amount to filter some of the one-sided reporting I was being presented with throughout.
The scene with Ryan Innis, the ex Crystal Palace defender who went to prison for assault, seemed to indicate that the academy system was to blame for his crime. There were images of prison flashing over the screen in dramatic fashion as he spoke and I began to think of the parents I know with children at academies, now fearing their children may end up in trouble with the law. Where was the data which told us the percentages of footballers who go to prison following being in the academy system? I felt there was a narrative being created early on in the documentary and viewers weren't being allowed to come up with their own opinions on the subject.
They often referred to 3 year olds being scouted at academies as if this is now common. I'm contracted as a Scout Coordinator with Chelsea and I know I wouldn't be allowed to send a 3 years old into any of our sessions even if I wanted to; the senior management would probably make fun of me if I tried. None of the scouts I know who work for the other major London clubs would dream of sending a player of that age to train; the idea is quite ridiculous. However it kept being mentioned through the documentary as well as in the promotional interview on BT Sport with Frank Lampard and Chris Sutton.
Another frustration I had was when Gareth Southgate was asked: "is there an optimal age you can judge a player and say yes he's got what it takes?"
I found his answer conflicting: "No, I think that's very individual. What I would say is that we take them too young. I don't see how anyone can take a young 7 or 8 year old kid into an academy and have a realistic conversation with them or their family which talks about being a professional at the end. Because, for me, [it's] impossible. They might be a talent, but that is some journey you've got to go on. By all means bring them in, let them enjoy football, improve them and give them the opportunity to play with good players but I worry that kids are signed up too early and the dream is there at an age it's impossible for anybody to know what's going to happen."
Although Southgate criticises young players joining academies in the documentary, in November 2017 he was complimentary of these same players: "We've given these guys the opportunity and we believe there are others coming through our youth systems,'' he said. "We're showing people what youth development in our country can produce". He highlights Winks, Gomez, Loftus-Cheek stating "they are comfortable with the ball, they are technically good footballers". Yet both Loftus Cheek and Winks started with their clubs [Tottenham and Chelsea] at 6 years old, at development centres. Phil Foden has been at Man City since 6 years old, Marcus Rashford at Man U since the age of 7, Dominic Solanke was aged 6, as was Tammy Abraham and Jordan Sancho joined Watford aged 7. John Stones joined Barnsley at 8 years old.  So many of the current England players who are part of the new England DNA have been with their clubs since U8s.  I know from working at Chelsea that the majority of our youth team is now made up of players who were with us from the age of 7 and many are the same players who went on to win World Cups at Youth Level with England last year.  We are the first country to win three major competitions at youth level in one year with the approach we have had over the past 10 years, recruiting players at younger ages. We are finally starting to develop players who can compete at the highest level.
In Matthew Syed's famous book Bounce, in which he studies the science of success, he sights there is no such thing as talent, just individuals who have applied 10,000 hours of purposeful practice! My question back to Michael Calvin is, if he wants to stop children going to academies at the age of 6 and 7, where do they get their 10,000 hours from? Unfortunately, although grassroots football in England has greatly improved, it's still in a long way from where it needs to be, with a large number unqualified coaches responsible for managing teams and very poor facilities across the board. Is he proposing all our most promising young players don't compete against the best players and work with the best coaches 4 times a week? I don't suspect France, Belgium, Germany, Brazil and Spain will stop just because we would. This is the issue I had with the documentary. Michael Calvin also speaks about 7 year olds who are driven around 5 nights a week, being taken from club to club to get their practice and feels this is the wrong approach because they need a childhood. His solution was proposing children do a few sports up until the age of 10 or 11, when they have matured, and they can then join academies at that stage if they so wish. This would be awesome, if every other country did the same.
We are constantly complaining that English players can't get into Premier League teams and our national team haven't been technically good enough over the past few decades. We are now starting to develop players who can compete with the best in the world, as we proved with the three youth tournament cup wins in 2017. I felt the documentary could have gone deeper in it's investigation and asked some broader questions. It's horrible children are "Released" from academies at 6 years old and that there are parents pressuring their children to succeed at a young age, who view their children as vehicles to achieve their own dreams; I'm not arguing this at all. It raised excellent points and it's great we are talking about youth football in England, as it clearly has to improve, but I see the same problems in children's Theatre, Modelling, Music and Dance. If Fifa set a rule that no academies could sign players below the age of U10 anywhere in the world, to protect the welfare of the children and everyone agreed to respect this rule, it would be a level playing field; however this doesn't seem conceivable. A rule like this would wouldn't stop the coaching happening, it would just occur  under a different umbrella. Academies would be forced to outsource their coaching to outside companies to get the same results they are getting now and a lot the problems presented in Calvin's documentary would resurface.
Football academies are a target as football is the most popular sport, but these issues are wider problems. We have to show more compassion and care everywhere. I do hope the discussions raised in the film create positive change and help improve child welfare across all industries which involve children, not just football.
If you haven't yet seen the documentary you can watch it here:
https://sport.bt.com/bt-sport-films-no-hunger-in-paradise-91364241852638