Secret Arsenal Player signs up with WMF
We Make Footballers are no stranger to the professional football world. Not only do our franchises offer pathways into professional clubs for the children who dream of playing pro one day, we also have academy managers and head coaches who have experience either playing professionally or scouting for professional football clubs.
Since the creation of WMF, our Franchisees have had the opportunity, and the pleasure, to coach the children of famous pro players, such as Jamie Redknapp, Florent Malouda, Dennis Wise and Didier Drogba. So it does not come as a surprise to learn that a footballer, currently playing for Arsenal, has enrolled their child to train with us at one of our franchises.
We're very appreciative that parents/guardians, of all types of backgrounds, trust WMF to deliver excellent coaching for their children. Regardless of a child's background or family name, we take equality and diversity very seriously, which means all children who train with us are treated and trained with no partiality. WMF Franchises offer all pupils the same opportunity to play within Grassroots teams or be scouted for professional teams, with no influence but the talent and skill Academy directors and coaches see from the players themselves.
For more information on how we ensure our Franchises implement Equality & Diversity, read our policy on our customer website.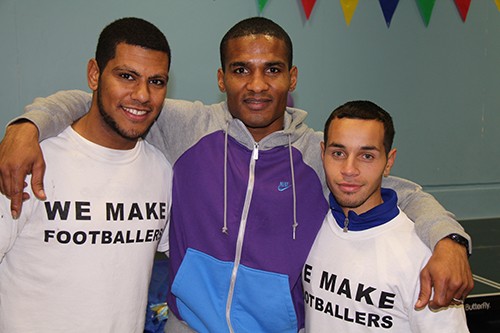 Coach Iuri & Coach Marcelo (now WMF Franchise owners) with Florent Malouda.