What Makes a Good Grassroots Football Coach
What makes a good grassroots football coach goes beyond simply being able to teach a child how to play a 10-yard pass. 
The best grassroots coaches possess special characteristics that not only help players improve, but that also have a profound impact on the lives of the children they work with.
From the ability to take feedback on board to adopt a child-centric and player-focused approach, here are some of the attributes which the best grassroots youth football coaches in the UK all have in common.
A positive attitude and approach
A grassroots football coach must ensure that the players they are working with enjoy themselves. For many children, their future relationship with football is shaped by what happens through their early experience of the sport – the experience given to them by their grassroots coach.
When players enjoy themselves and look forward to every session, they will end up falling in love with football. It is a relationship that will last a lifetime, regardless of their ability, success or the level they go onto play at.
To have that impact on young players, a grassroots coach must be positive, enthusiastic and passionate about their role. 
Children better engage with coaches who show great enthusiasm in what they do. That enthusiasm is infectious to players. If the coach appears indifferent to the session ahead, that often rubs off on their players – and there is nothing enjoyable about indifference.
Players respond more quickly to the methods and teachings of passionate coaches. When children see that a coach clearly loves what they are doing and cares deeply about it, they will be filled with belief that what the coach sets out for them to do is geared to helping them improve. 
At the same time, the best grassroots coaches acknowledge that things might not always go to plan. When that is the case, a positive attitude is a must. No child is going to respond well to being embarrassed, humiliated or told off when they get something wrong.
Instead, the coach has to look for the positives. Identify why the player failed at the task, coach them through what to do next time and help them achieve their target. Praise the good and offer feedback on the bad.
There is no better feeling in football as either a player or coach than seeing an individual master a skill they had previously struggled with – and climbing such mountains can only be done through a positive attitude.
Being a great two-way communicator
It is not merely enough for a grassroots football coach to be a great communicator – they have to be a great two-way communicator. Listening to players and taking on feedback is every bit as important as being able to get a message across clearly.
When it comes to outwards communications, a good grassroots coach will know that talking is sometimes not enough. They will also use clear demonstrations or diagrams to make their point, knowing that different children find different learning methods beneficial.
Asking for and listening to feedback from players is one of the easiest ways that a coach can find out if what they are doing is working. An honest appraisal from a child or parent can inform the approach taken for an individual child going forward and open them up to further improvement.
Players will feel more comfortable giving feedback to an approachable coach. The best grassroots coaches show their players they are willing to listen and make them feel comfortable about saying what they think. It is to the benefit of everyone that they do so.
Being flexible
Receiving feedback from players or parents is only useful if a coach then acts upon it – which is why the best grassroots football coaches are flexible in their approach.
Every child is different and so a one size fits all approach to coaching is an ineffective method. Coaches who are steadfast and rigid in their methods will have far less success than those who are willing to experiment and be flexible.
When one approach does not work with a player, a grassroots coach should not seek to lay blame at the feet of the child or question their ability. Instead, it showed be viewed as a challenge – how can the coach help the player overcome their struggles and master the skill?
Children are not the only ones who should be learning with every session. Coaches too can always improve or reinvent themselves as time goes on, building their knowledge through trying new coaching techniques in a never-ending quest for becoming better.
Realising it is about the players, not the coach
One of the biggest traps a grassroots coach can fall into is thinking that they are Jurgen Klopp or Jose Mourinho – coaches with an ego to make it all about them.
There are numerous reasons why top Premier League managers are desperate for the limelight. Often, it is to relieve pressure on their players. Other times it is to try and coerce their board into a new signing or referees into favouring them or casting doubt on the integrity of the opposition. And some just like the sound of their voices.
Grassroots football is a world away from the billion-pound industry that is the Premier League. The best grassroots coaches know this and make everything about their player's enjoyment and improvement rather than making it all about them.
Results are not important when it comes to children's football. The best coaches do not worry or think that their team losing reflects badly on them; instead, they realise that failure is just another path to success and that individual improvement and enjoyment matters more.
The grassroots coach is there to help children have fun. They are there to serve their players and give them a football education. Child development should always come above winning, which is why the players are the most important part of any grassroots football academy.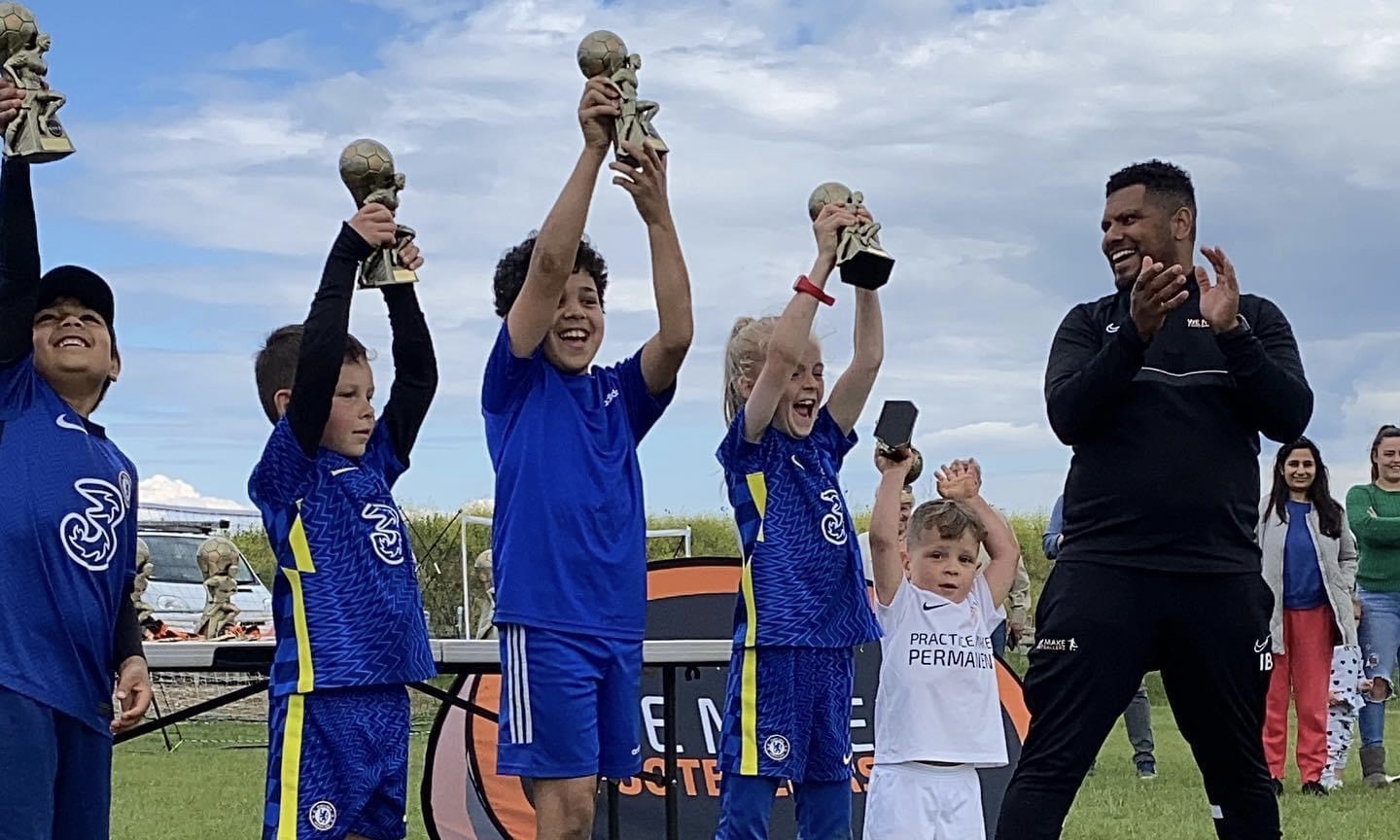 Setting a good example
Children are impressionable and that means that to be a success, a grassroots coach must lead by example. Many young players will look up to their football coaches as role models, so what a coach says and does matters.
Setting an example starts from appearances. A coach who turns up to a coaching session in jeans and a flat cap like something out of Peaky Blinders will not be taken seriously. 
Players will think if their coach cannot be bothered to dress appropriately on the training ground or professionally go about their business, why should they? Appearances set the standard for what happens on the pitch. 
A grassroots coach can lead by example by being punctual and organised. If the coach arrives five minutes before training starts and is still trying to layout drills or plan what is going to happen when the session is meant to be underway, then their players too can start thinking it is acceptable to be late or unorganised.
Everything that grassroots coach does whilst working with their players can make an impression and inform what they think is acceptable in football and life. Setting a good example is key.
Getting to know players as people
The best way for a coach to understand the players they are working with is by getting to know them as people. This is especially true when it comes to children through the impact that a grassroots coach can have as a role model.
Football can be a powerful force for good in the lives of young people. It gives them focus and can help keep them out of trouble. The professional game is full of players whose stories feature a theme of "I don't know where I would be without football."
A coach who takes an interest in a player's life off the pitch is in a better position to understand their background. This in turn can help to make a positive impact on a child's life, both on and off the pitch.
When it comes to football, a player will better respect and trust a coach who they feel is looking out for them. That leads to improved performances through motivation and hard work.
Away from the sport, if a child believes that their coach has their best interests at heart then they are more likely to look up to them and listen. A strong relationship between coach and player can be a vehicle for change.
We Make Footballers are the UK's number one football coaching academy for children aged 4-12 years old. 
If you think you have what it takes to become a grassroots coach, please contact us through our website to find out more.