What Qualifications Do You Need To Be A Football Coach?

If you love football and think that you would make a good coach then you may be wondering what qualifications you need in order to become a qualified football coach. In this article we are going to look at the structure as it exists in the UK for aspiring football coaches. We will look at the current FA pyramid, and give you some guidance on how to get qualified so that you can enjoy a rewarding career as a football coach.
---
Steps to becoming a Football coach in England
In order to begin coaching, you will need to gain the FA's initial coaching qualification: the FALevel 1 In Coaching Football.
This qualification is the first step on the FA's core coaching pathway. The course consists of 8 face-to-face workshops, as well as some guided learning modules that are based online. Once you have passed the qualification, you will be able to work with players from under 7's all the way up to adults.
The course includes many facets of the modern game, and also gives you insight into the FA's Plan, Do, Review model. There is also an emphasis on the safeguarding of children and first aid. This emphasis ensures that you are well aware of the intricacies of coaching children, and the specific needs that come along with coaching them.
The course is intended to give you a strong foundation to be able to guide and support the development of players, and give you a basis to further your own learning by continuing on the coaching path. These courses are held by your local FA – click here to find your local FA.
---
Next Steps
Of course the FA Level 1 In Coaching Football is just the beginning of your coaching career. In order to continue in your new career, you will need to continually improve and refine your knowledge of the game. The next step on the coaching pyramid for new coaches is the FA Level 2 In Football Coaching.
A far more in-depth course than Level 1, the FA Level 2 In Coaching Football drills deeper into England DNA's core components – How We Coach, How We Play, How We Support and The Future Player.  The course is split into 20 guided learning workshops which cover a vast array of subjects that are intended to round out your coaching knowledge. This course is intended to create much more rounded coaches and allow them to begin to develop a coaching philosophy.  It is also the next step on the road to becoming a top level coach.
---
Coaching At A High Level
 For some coaches, the chance of coaching at the highest levels of the game is the ultimate aim. For these coaches, there exist three levels: UEFA B, UEFA A and UEFA Pro. These internationally recognised qualifications are ideal for those who wish to take their coaching career to the next level. Indeed in the case of working at the highest levels (such as the Premier League or UEFA competitions), coaches will need to gain the UEFA Pro licence.
---
Below we are going to look at the three levels in a little more detail:
---
UEFA B
The UEFA B qualification is designed to help ensure that you can develop players holistically, and covers a range of themes including technical, tactical, physical, psychological and social needs. Once you have passed this qualification, you will be able to design practices that help to develop the decision-making ability of players and help them to develop their all-round skills as a player.
The course is made up of 18 guided learning workshops, and you will also receive three visits in between the learning blocks to help you to develop within your own coaching environment.
---
UEFA A
The UEFA A qualification is the highest practical coaching qualification available.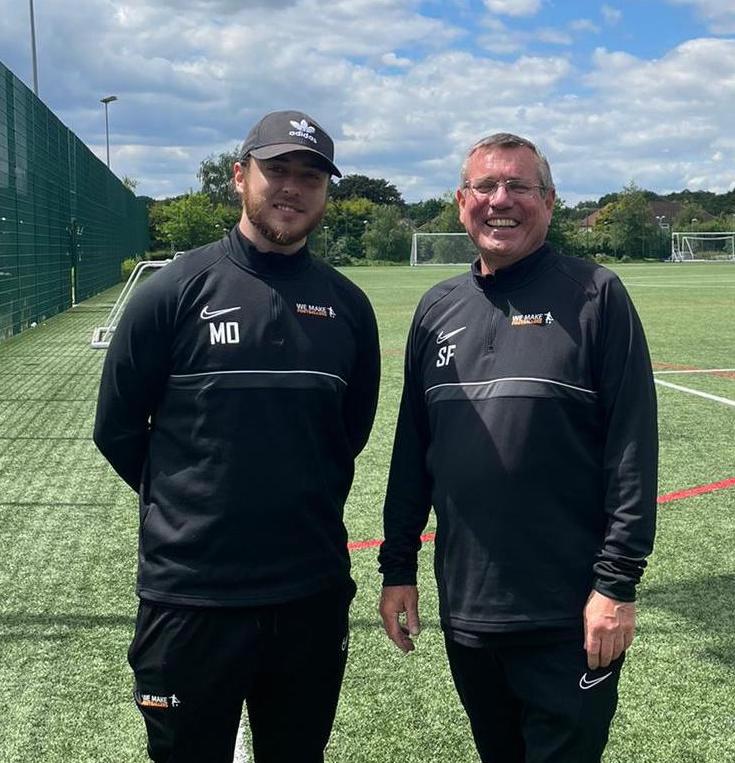 The course is all about ensuring that coaches have all the knowledge that they need to be able to develop players, and also have an in-depth technical and tactical knowledge of the 11v11 game. The course will explore current trends in the game (including training techniques and tactics), and will ensure that you have everything that you need to succeed in your coaching career.
The course takes place over 18 days within a one-year period, and is divided into six residential modules (that take place at the FA's national centre – St George's Park) and is overseen by an FA coach developer who will help you with your decision making. It is the ideal qualification for those who are looking to work at the senior professional levels (21+) and ensures that you have a strong ability to coach at a high level.
---
UEFA Pro
If you wish to coach at the most senior levels of the game (FA Premier League & UEFA competitions such as The Champions League), you will need to gain the UEFA Pro qualification. The course takes place over an 18-month period and consists of 25 days face-to-face learning that will enhance your management and leadership skills to ensure that you are not only a technically sound coach, you are also a leader who can inspire, motivate and guide teams to elite performance levels.
---
Getting into Coaching without experience
As with most other career paths, "experience" sets your career on its trajectory. Otherwise all you have is "a good knowledge of the game". Here are some tips on how to get into football coaching without any previous experience:
Volunteering: Often no experience is required – kick start your coaching career by volunteering at a local school or team. You may also consider volunteering with some of our coaches, click here to find the franchise closest to you. Football is one of those community sports that cannot run fully without volunteers and the dedication of those involved.
Local and Lower leagues: This works best if you have previously played for a local team. It is probably a good option to contact the coach, asking if you can involved on a voluntary basis. Passion is key to football and coaching; you will need to be able to demonstrate your passion to the coach.
International Internships in football: Asides the fun of experiencing a different culture, getting involved in football in a different country will not only give you the needed experience with getting into football, it will also help you experience the game from a totally different school of thought (another country's way of seeing the game).
---
An Excellent Opportunity
These days, many people are looking for opportunities to either work for themselves, do a job they enjoy, or just earn a little more money outside of their 9 to 5 career. Whichever one of these appeals to you can be achieved by being a football coach. Whether you intend to work with kids, or you want to try and go all the way to the top, the FA's coaching pyramid offers continual progression and the ability to create a career that you love. If you want to get started in coaching, our football franchise opportunity allows coaches to get their career off of the ground. So if you are interested in taking on a challenging, rewarding and profitable career as a football coach, get in touch today and speak to us about getting started.