Which Is the Best Country in the World to Play Football In?
As the most popular sport in the world, football unites people across countries, languages and cultures. And there is no shortage of countries producing players and teams at the very top of the game. But, if there were a league table of the best countries in the world to be a football player (or, indeed, coach!), which country would come out on top?
We decided to find out.
We're not just talking about actual match performance here, although that's obviously important! We know which countries tend to do well at the big tournaments. We're talking about funding, climate, history and more. All of these things come into creating the right environment for football to thrive. 
Using data from a range of sources, including FIFA and the World Happiness Index, we looked at the following metrics:
Climate (sunshine hours per year)

FIFA ranking (men's and women's)

Stadium capacity

Number and age of clubs

Top-flight revenue

Salary

World Happiness Index score

Cost of living
We assigned each a value out of 10 and then compiled the results into our league tables. 
And the Winner Is…
It should come as no surprise to us that, taking all the above criteria into account, the winner is… England! 
Despite not having the best performance at the international level, or indeed the best climate (shocking, we know), England's unsurpassed footballing heritage and culture, the capacity of its stadiums and the revenue of its top flight clubs all helped push it to the top of the table. With both the highest stadium capacity, and the highest number of domestic clubs, as well as being the home of the world's oldest football club, England really is at the top of the beautiful game.
Germany comes in a close second, followed by Spain, France and Brazil. Here's the top 10: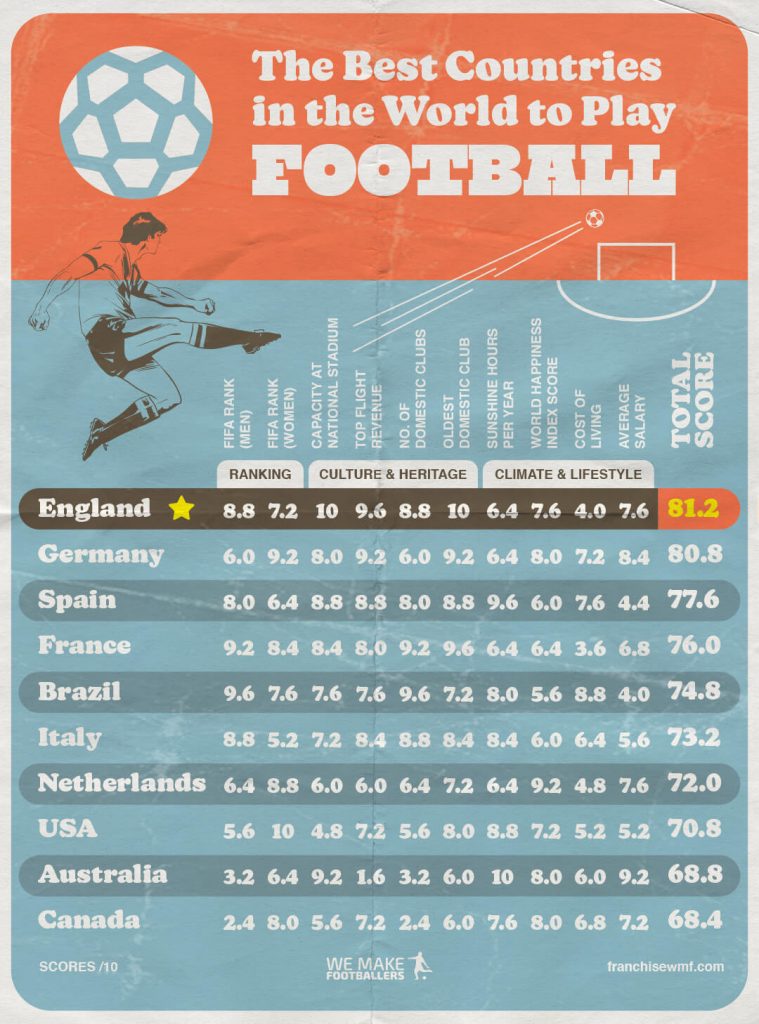 Interesting Takeaways
When it comes to actual footballing performance (using FIFA's ranking), our top 2 actually fall down the list. That said, Germany's women's ranking is excellent. The top-ranked countries here are Brazil (men's) and USA (women's). 
Topping our climate and lifestyle league table was Australia. With its hours and hours of sunshine and laid-back lifestyle, it's perhaps not surprising. Denmark's happiness index score and high average salary puts it at number 2, while Germany comes in at 3.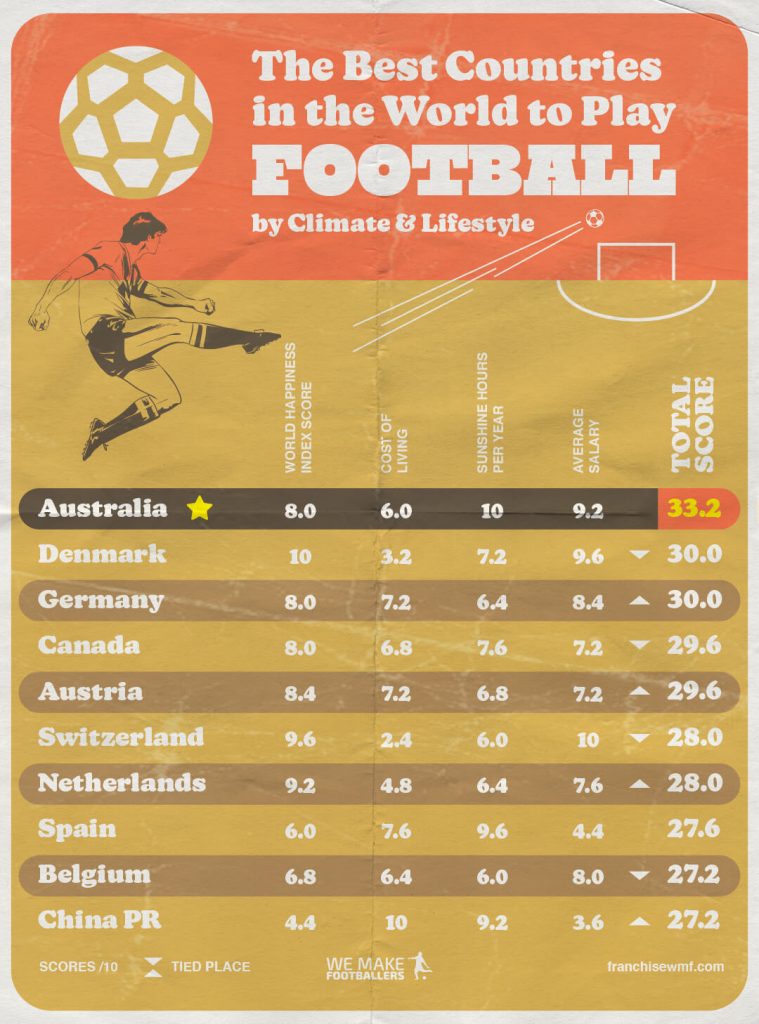 England isn't even in the top 10, however, this just goes to show that we don't let a little thing like the great British weather stand in our way to footballing glory! 
Brazil is the richest footballing country, coming top for revenue, with England and Germany not far behind, while in terms of footballing history, England is miles ahead. With nine out of ten of the first football clubs in the world having been founded in England (Sheffield FC is the oldest, founded around 1857 for those wondering), it's hardly surprising. The oldest non-British club is Kjøbenhavns Boldklubb, from Denmark, founded in 1876.
England also has the highest number of domestic clubs (a whopping 942), followed by France with 636, Germany with 366, Spain with 265 and Italy with 177.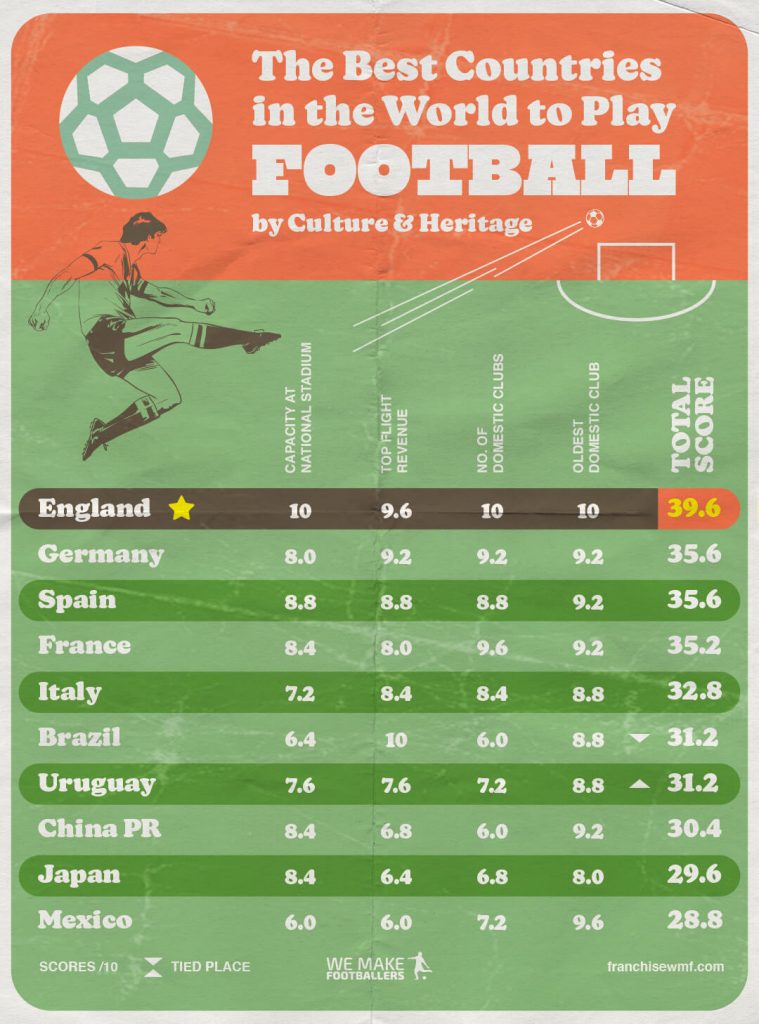 England vs Germany… Again
Paying homage to the decades-old footballing rivalry between England and Germany, we also took a tongue-in-cheek look at the top two, putting them head to head once again in a battle of the footballing greats. As you can see, it's a close run thing, but, as in the Euros semi finals, England wins out. For once, this one didn't have to go to penalties…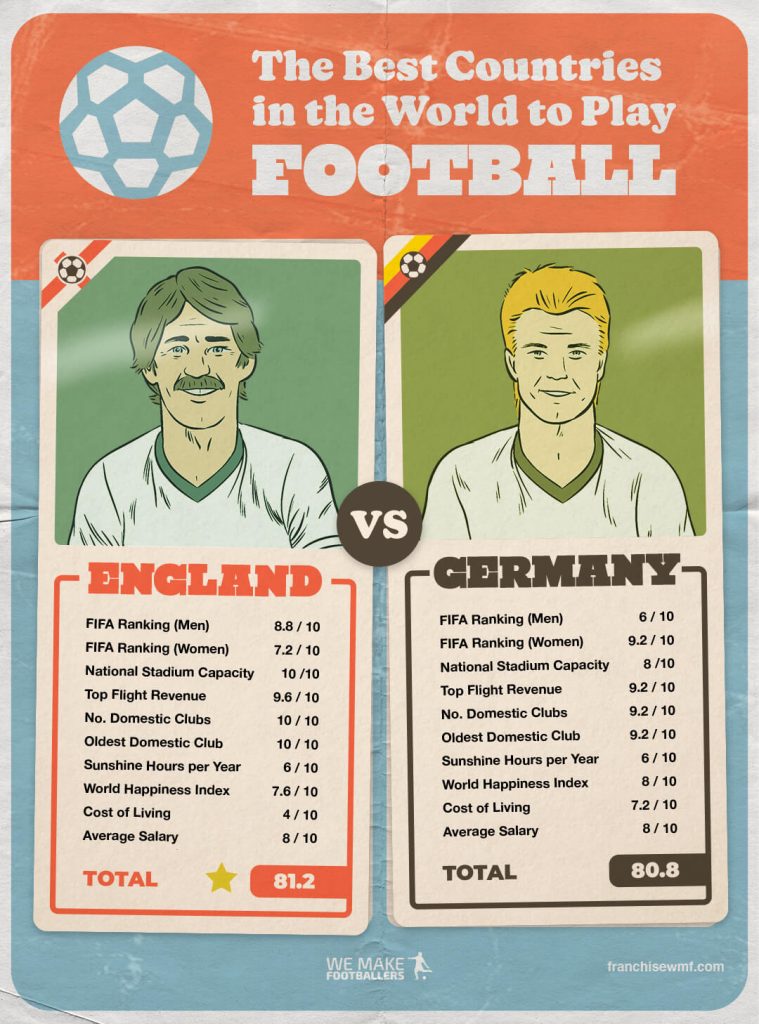 Sources: